Hard Case Crime, Part 4
11-05-18, 10:31 AM
DVD Talk Reviewer Emeritus
Join Date: Oct 2000
Location: Fort Collins, CO
Posts: 3,208
Re: Hard Case Crime, Part 4
---
And then, in April 2019, an original: A BLOODY BUSINESS by Dylan Struzan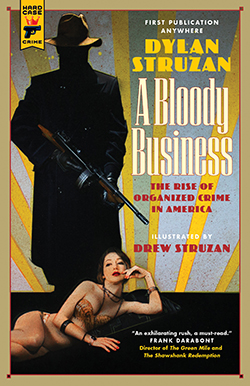 ON THE 100TH ANNIVERSARY OF PROHIBITION, LEARN WHAT REALLY HAPPENED.
In 1919, the National Prohibition Act was passed, making it illegal across America to produce, distribute, or sell liquor. With this act, the U.S. Congress also created organized crime as we know it. Italian, Jewish, and Irish mobs sprang up to supply the suddenly illegal commodity to the millions of people still eager to drink it. Men like Lucky Luciano and Meyer Lansky, Dutch Schultz and Bugsy Siegel, Al Capone in Chicago and Nucky Johnson in Atlantic City, waged a brutal war for power in the streets and on the waterfronts. But if you think you already know this story...think again, since you've never seen it through the eyes of one the mobsters who lived it.
Called "one of the most significant organized crime figures in the United States" by the U.S. District Attorney, Vincent "Jimmy Blue Eyes" Alo was just 15 years old when Prohibition became law. Over the next decade, Alo would work side by side with Lansky and Luciano as they navigated the brutal underworld of bootlegging, thievery and murder. Alo's later career included prison time and the ultimate Mob tribute: being immortalized as "Johnny Ola" in The Godfather, Part II.
Introduced to the 91-year-old Alo living in retirement in Florida, Dylan Struzan based this book on more than 50 hours of recorded testimony—stories Alo had never shared, and that he forbid her to publish until "after I'm gone." Alo died, peacefully, two months short of his 97th birthday. And now his stories—bracing and violent, full of intrigue and betrayal, hunger and hubris—can finally be told.
* First publication ever!
* At nearly 200,000 words, this is the longest book Hard Case Crime has ever published, covering the entire 13 years of Prohibition, 1920-1933
* With cover art and 24 interior illustrations by Drew Struzan, one of the most acclaimed movie poster painters of all time
11-06-18, 10:35 AM
Re: Hard Case Crime, Part 4
---
Great news
Glad to see another Westlake added to the HCC cannon. Brothers Keepers has been out of print since the early 80s I believe.
That Struzan books is mammoth and I thought Ariel Winter's The Twenty-Year Death was long.
11-06-18, 10:40 AM
DVD Talk Reviewer Emeritus
Join Date: Oct 2000
Location: Fort Collins, CO
Posts: 3,208
Re: Hard Case Crime, Part 4
---
And check out this interesting news today ...

STEPHEN KING'S THE COLORADO KID RETURNS AFTER A DECADE IN BRAND-NEW ILLUSTRATED EDITION!
On an island off the coast of Maine, a man is found dead. There's no identification on the body. Only the dogged work of a pair of local newspapermen and a graduate student in forensics turns up any clues, and it's more than a year before the man is identified.
And that's just the beginning of the mystery. Because the more they learn about the man and the baffling circumstances of his death, the less they understand. Was it an impossible crime? Or something stranger still...?
No one but Stephen King could tell this story about the darkness at the heart of the unknown and our compulsion to investigate the unexplained. With echoes of Dashiell Hammett's The Maltese Falcon and the work of Graham Greene, one of the world's great storytellers presents a moving and surprising tale whose subject is nothing less than the nature of mystery itself...
*First appearance in bookstores in a decade, and first ever in trade paperback format
*Featuring a new painted cover by Paul Mann and 20 new interior illustrations by Mann, Mark Summers, Mark Edward Geyer, and Kate Kelton
*Afterword by Stephen King, introduction by Hard Case Crime editor Charles Ardai
*THE COLORADO KID was the inspiration for the TV series Haven, which ran for 6 years on the SyFy Network
11-09-18, 07:28 AM
Re: Hard Case Crime, Part 4
---
Meh, cash grab for the holiday season I suppose. I like the cover art, but not enough to get me to purchase a 3rd version of this book. I already have the limited HB and the first illustrated HB.
03-07-19, 11:47 AM
DVD Talk Reviewer Emeritus
Join Date: Oct 2000
Location: Fort Collins, CO
Posts: 3,208
Re: Hard Case Crime, Part 4
---
So what have been some favorite HCC titles over the past year or so? I confess the only one I've had time for lately is CHARLESGATE CONFIDENTIAL, and although the Boston subject matter was very appealing and the book got a lot of buzz, I was personally a bit underwhelmed.
04-02-19, 11:36 AM
Re: Hard Case Crime, Part 4
---
Email from Charles went out today. Nothing necessarily new - references the Struzan, King and Oates books that are due soon.
Friends --
It's been 6 months since we last wrote to you, and there's a lot to report -- starting with Hard Case Crime's biggest book ever, a 640-page historical novel telling the story of Prohibition and the rise of organized crime in America.
A BLOODY BUSINESS
by Dylan Struzan is an irresistible read, full of can't-put-it-down stories of gangsters, bootlegging, mob battles, rubouts, heists, tommyguns, and personalities as big as Lucky Luciano and Al Capone. The book is lavishly illustrated with more than two dozen pieces of original art by the author's husband, Drew Struzan, who is one of the most acclaimed movie poster painters in Hollywood history (you know his work from
Star Wars
,
Indiana Jones
,
Harry Potter
, and more). And best of all, all the stories in the book were told to Dylan by an elderly ex-mobster, living in retirement in Florida, who was a teenager during Prohibition and actually lived through all the events in the book! I like to think all our books are exciting, but this one is very special and one you won't want to miss.
What else is special? Well, Stephen King is returning to Hard Case Crime with
THE COLORADO KID
, a story he originally wrote for us back in 2005 but hasn't allowed to be published for more than 10 years! It was the inspiration for the TV series
Haven
and won raves all over the place, but you haven't been able to buy a copy in stores for a decade. On May 7th, that all changes. And like
A BLOODY BUSINESS
, this new edition of
THE COLORADO KID
is also lavishly illustrated, with 21 brand new pieces of art by four artists -- including Kate Kelton, who is also an actress and played the part of Jordan on
Haven
!
Already in stores now is Donald E. Westlake's delicious tale of monks in Manhattan, fighting to save their monastery from being torn down by a rapacious real estate developer,
BROTHERS KEEPERS
. And coming in July is an amazing discovery by Joyce Carol Oates, one of the most revered authors of the past century,
THE TRIUMPH OF THE SPIDER MONKEY
(inspired by the same set of events that inspired Quentin Tarantino's new movie, and hitting bookstores just 10 days before the movie!).
And there's more, lots more, which we'll let you know about when warmer weather comes. But now's already a good time to stock up on beach reading! If you have a moment, we'd be very grateful if you'd pre-order some of these books:
Dylan's
,
Steve's
,
Joyce's
...they're all wonderful. You're not just doing us a favor -- you're doing yourself one.
Warmest regards,
Charles
07-10-19, 10:44 AM
Re: Hard Case Crime, Part 4
---
Another Quarry - due in November
Another Westlake - due in February
DePalma(!) - due in March
WHO PUT QUARRY IN THE CROSSHAIRS?
Formerly a Marine sniper in Vietnam, the man known professionally as Quarry has spent the past decade killing for money, first in the service of an agent called the Broker, and then as a freelance hitman. But he's always been on the right side of those contract kills—until now.
It seems someone has taken out a contract on Quarry himself. But who? And why? And how does a mysterious figure from his past figure in? Quarry will find the answer—or die trying.
Since his first appearance in 1976, Quarry has been the star of a Cinemax TV series, a graphic novel (
Quarry's War
), and a dozen other novels. But he's never faced an assignment deadlier or more personal than this...
First publication ever!
Featuring the return of a character not seen since QUARRY'S DEAL in 1976
THE MOVIE STAR AND THE MOVIE CRITIC—
HOW FAR WOULD THEY GO
TO KEEP THEIR SECRETS BURIED?
Mystery Writers of America Grand Master Donald E. Westlake was also an Academy Award Nominee—for the screenplay of
The Grifters
—and a lifelong fan of the movies. So it's no surprise that some of his most brilliant writing intersected with Hollywood in unexpected and unforgettable ways.
"One of the great writers of the 20th Century."
—Newsweek
In New York City, a movie critic has just murdered his girlfriend—well, one of his girlfriends (not to be confused with his wife). Will the unlikely crime-solving partnership he forms with the investigating police detective keep him from the film noir ending he deserves?
On the opposite coast, movie star Dawn Devayne—the hottest It Girl in Hollywood—gets a visit from a Navy sailor who says he knew her when she was just ordinary Estelle Anlic of San Diego. Now she's a big star who's put her past behind her. But secrets have a way of not staying buried...
These two short novels, one hilarious and one heartbreaking, are two of the best works Westlake ever wrote. And fittingly, both became movies—one starring
Jack Ryan
's Marie-Josee Croze, and one starring
Fargo
's William H. Macy and
Desperate Housewives
' Felicity Huffman.
First appearance in bookstores in 40 years!
Donald E. Westlake won every major award in the mystery genre and gained fame both under his own name and writing as "Richard Stark"
FROM THE DIRECTOR OF
SCARFACE
AND
DRESSED TO KILL
—
A FEMALE REVENGE STORY
When the beautiful young videographer offered to join his campaign, Senator Lee Rogers should've known better. But saying no would have taken a stronger man than Rogers, with his ailing wife and his robust libido. Enter Barton Brock, the senator's fixer. He's already gotten rid of one troublesome young woman—how hard could this new one turn out to be?
Pursued from Washington D.C. to the streets of Paris, 18-year-old Fanny Cours knows her reputation and budding career are on the line. But what she doesn't realize is that her life might be as well...
The first novel from the legendary film director and a former editor of the New York Times
Brian de Palma's more than thirty films include Carrie, Scarface, The Untouchables, Dressed to Kill, Body Double, Blow Out, and the original Mission: Impossible
Original cover painting by Paul Mann
07-12-19, 06:20 AM
DVD Talk Platinum Edition
Join Date: Aug 1999
Posts: 3,378
Re: Hard Case Crime, Part 4
---
I was excited about the DePalma book and then I realized that his weakest scripts over the years are the ones he wrote, -they're great for directorial flourish, but short on logic. Perhaps the co-writer will provide the logic.
Posting Rules
You may not post new threads
You may not post replies
You may not post attachments
You may not edit your posts
---
HTML code is On
---