Hard Case Crime, Part 4
11-05-18, 11:31 AM
DVD Talk Reviewer Emeritus
Join Date: Oct 2000
Location: Fort Collins, CO
Posts: 3,197
Re: Hard Case Crime, Part 4
---
And then, in April 2019, an original: A BLOODY BUSINESS by Dylan Struzan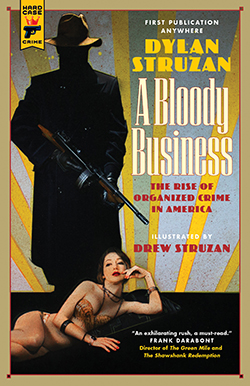 ON THE 100TH ANNIVERSARY OF PROHIBITION, LEARN WHAT REALLY HAPPENED.
In 1919, the National Prohibition Act was passed, making it illegal across America to produce, distribute, or sell liquor. With this act, the U.S. Congress also created organized crime as we know it. Italian, Jewish, and Irish mobs sprang up to supply the suddenly illegal commodity to the millions of people still eager to drink it. Men like Lucky Luciano and Meyer Lansky, Dutch Schultz and Bugsy Siegel, Al Capone in Chicago and Nucky Johnson in Atlantic City, waged a brutal war for power in the streets and on the waterfronts. But if you think you already know this story...think again, since you've never seen it through the eyes of one the mobsters who lived it.
Called "one of the most significant organized crime figures in the United States" by the U.S. District Attorney, Vincent "Jimmy Blue Eyes" Alo was just 15 years old when Prohibition became law. Over the next decade, Alo would work side by side with Lansky and Luciano as they navigated the brutal underworld of bootlegging, thievery and murder. Alo's later career included prison time and the ultimate Mob tribute: being immortalized as "Johnny Ola" in The Godfather, Part II.
Introduced to the 91-year-old Alo living in retirement in Florida, Dylan Struzan based this book on more than 50 hours of recorded testimony—stories Alo had never shared, and that he forbid her to publish until "after I'm gone." Alo died, peacefully, two months short of his 97th birthday. And now his stories—bracing and violent, full of intrigue and betrayal, hunger and hubris—can finally be told.
* First publication ever!
* At nearly 200,000 words, this is the longest book Hard Case Crime has ever published, covering the entire 13 years of Prohibition, 1920-1933
* With cover art and 24 interior illustrations by Drew Struzan, one of the most acclaimed movie poster painters of all time
11-06-18, 11:35 AM
Re: Hard Case Crime, Part 4
---
Great news
Glad to see another Westlake added to the HCC cannon. Brothers Keepers has been out of print since the early 80s I believe.
That Struzan books is mammoth and I thought Ariel Winter's The Twenty-Year Death was long.
11-06-18, 11:40 AM
DVD Talk Reviewer Emeritus
Join Date: Oct 2000
Location: Fort Collins, CO
Posts: 3,197
Re: Hard Case Crime, Part 4
---
And check out this interesting news today ...

STEPHEN KING'S THE COLORADO KID RETURNS AFTER A DECADE IN BRAND-NEW ILLUSTRATED EDITION!
On an island off the coast of Maine, a man is found dead. There's no identification on the body. Only the dogged work of a pair of local newspapermen and a graduate student in forensics turns up any clues, and it's more than a year before the man is identified.
And that's just the beginning of the mystery. Because the more they learn about the man and the baffling circumstances of his death, the less they understand. Was it an impossible crime? Or something stranger still...?
No one but Stephen King could tell this story about the darkness at the heart of the unknown and our compulsion to investigate the unexplained. With echoes of Dashiell Hammett's The Maltese Falcon and the work of Graham Greene, one of the world's great storytellers presents a moving and surprising tale whose subject is nothing less than the nature of mystery itself...
*First appearance in bookstores in a decade, and first ever in trade paperback format
*Featuring a new painted cover by Paul Mann and 20 new interior illustrations by Mann, Mark Summers, Mark Edward Geyer, and Kate Kelton
*Afterword by Stephen King, introduction by Hard Case Crime editor Charles Ardai
*THE COLORADO KID was the inspiration for the TV series Haven, which ran for 6 years on the SyFy Network
11-09-18, 08:28 AM
Re: Hard Case Crime, Part 4
---
Meh, cash grab for the holiday season I suppose. I like the cover art, but not enough to get me to purchase a 3rd version of this book. I already have the limited HB and the first illustrated HB.
Posting Rules
You may not post new threads
You may not post replies
You may not post attachments
You may not edit your posts
---
HTML code is On
---